BEAN'S MUSINGS
Jul. 30th, 2012 12:22 am Jeordie

Tonight I decided to print a few pics of Jeordie to make myself feel better. I'm so horny right now I love love love love love him so much. I just want to cuddle with him and kiss him all over I want to kiss him everywhere. I want him to lay me down and take my clothes off and he'll let me take his clothes off while we both kiss and touch and lick each other everywhere. He'll lay on top of me and I'll split my legs open so he can slide his huge cock inside of me. Oh god I'd be moaning like a whore. He would just fuck me so good and so hard. I wrap my arms and legs around him and just bite and lick his chest and his neck and his arms. His hands would rub my tits and god I just want his hands all over me. I want to feel one of his hands grab the back of my neck while he keeps fucking me. I'll suck on his fingers and ask him to take them and rub my clit with them. I would fucking moan so loud when he makes me cum. God I would scream his name so loud. I'm sure my eyes would roll into the back of my head. I want to pull his cock out of my pussy and start sucking it and rubbing it. I want to put my lips around it and just suck it and suck it. I want to play with his testicles and feel his head against the back of my throat. I wanna squeeze and rub the base and rub my lips down his shaft I wanna suck it until he cums. I'd take all of his cum in my mouth and I'd look up at him and slide his cock out of my mouth and I'd show his cum to him...I'd let some spill onto my lips and I'd swallow the rest of it. I want to make him feel so good I'd play with his cock and then I would cuddle with him. I just want to Kiss him and hugs him and I want him to put his arms around me. I want to stay naked with him while we lay on each other. Maybe we could sleep and wake up and do it all over again. I really wish he would do everything to me. I want him to bend me over, pour lube all over his cock and fuck me in the ass while he reaches his hand between my legs and rubs my clit with his fingers... He has really huge hands and really thick fingers. I just want them on my clitI love him so much. He's the only man I want to fuck. I love him so much. I would do anything to have one night with him/ if I could just touch him or taste him or kiss him once I would be so happy. I love Jeordie so fucking much. No one understands. I don't care. I love him. I wish I could just be in his arms and kiss and touch him. I want him to slide his hands all over me. I want him to hold me and just never let go. I want to kiss his lips and feel his tongue in my mouth. I love him so much

Posted via LiveJournal app for iPhone.

Leave a comment
Jul. 29th, 2012 05:52 pm Getting into Sunday eve

I'm just sitting in bed. I was so depressed before I just fell right asleep with Mitties next to me clinging to my Jeordie mousepad. I woke up feeling better. I have been frantic recently just hoping whatever is wrong with my back I won't need surgery for to fix. I started getting better a week and a half ago. I knew everything was going to be better when on Thursday the 19th I was watching VH1 Classic. I was waiting for my doctors appt. and then a Cheap Trick video came on...the Flame. I remembered they were going to be at the garden that night. I got so sad I started to cry thinking that I would miss Robin Zander/Cheap Trick again. So I was sitting there and I decided well just for the hell of it I'll go to ticketmaster and see if there were any tickets left. There were! It was a good seat too. So I got it and went after my appt. it was a great time and I knew everything is going to be ok. I vowed then never will I miss my fave bands again when they come to town. Now that I have this pain back I'm not so sure. I think everything will still be fine. It may just be the dampness from this weekend. Maybe I should use heat.

Mitties is still watching over me. Whenever I'm sad or in pain(in this case both) she stays right with me. She's just such a good girl and so misunderstood. Mama loves her little girl.

I'm still in love with Jeordie White. I love him so much. He's so cute I want him to fuck 27 different ways into next Sunday. I've found so many recent orgasm pics of him! He is so cute. I hate his girlfriend I wish she would go away. I should be his girlfriend. I just wanna be locked away with him for a week...in a place preferably with champagne and a hot tub. And satin sheets. Coz I'm gonna fuck the cum out of him... God I have never wanted to fuck anybody so hard. Nobody has ever made me feel so horny...

Posted via LiveJournal app for iPhone.

Leave a comment
May. 14th, 2011 03:16 pm Writer's Block: Tobacco road

Would you want your city to outlaw smoking on public streets? Why or why not?


I feel that Banning smoking on the streets is the most rediculous thing i've ever heard. no I do not think so. I think if people are this sensitive to smoke outside then maybe they can just walk away. Fucking idiots.Leave a comment
Apr. 22nd, 2010 08:45 pm Fantasia Home Parties

Hello,

If any ladies out there are looking to spice up or add a little something to your love life, I can help you out. My name is Colleen C and I am a distributor for Fantasia Home Parties. We are the pioneers of in-home parties for women only. I am the only Sales Representative on Cape Cod so I am opening up a great opportunity for our region. Fantasia has been in business for over 25 years. We have a great and professional reputation. We sell creams, lotions, oils, beauty products and of course sex toys. I can do parties, virtual parties (all done electronically) or you can buy directly from my web portal (www.colleenc.fantasiahomeparties.com). You and your friends will have a great time! You will also appreciate the comfortable atmosphere I can provide as your Romance Enhancement Specialist all in the comfort of your own home. All orders are taken in private and individually wrapped. Our products are mailed to you discreetly so noone will know what you are getting in the mail. As a hostess you also get 10% of the party sales of $200.00 or more and a half price item of your choice. If you are interested I encourage you to call, text, or email me anytime. Thank you and remember my business is your pleasure. 18+ please.

Colleen Crocker

Mobile: 774-251-0635
Email: mrsjamesiha@yahoo.com
Web:

Current Location: United States, Massachusetts, Hyannis
Current Mood:
chipper
Current Music: Red Sox

Leave a comment
Apr. 24th, 2008 12:36 pm A Favor for my best friend!

Hi everybody its Colleen, your good friend/dearest family member. I know I have not been here in a while but I am trying to spread the word of something for my best friend Sarah. I was wondering if you all could take the time out and read the following email from her. If you could help her out w/ this or at least check it out I would soooooo appreciate it. She entered a contest w/ some business associates to start an online business a few months ago. The basis is all below but in any case her team made the top twenty. If they make the top three they will get 300,000.00 to start up the business. Thanks for taking the time if you would. I would appreciate it a lot and please forward this if you can. Thanks and much love, Colleen C

Hello Friends and Family,
As many of you know, and some of you I'm sure haven't heard yet, I entered a contest a few months ago as part of a team.

The contest is being put on by Bang Ventures, a Boston based venture capitalist firm, and www.youbethevc.com.

Well we made the finalists! Out of all the entries, a judging panel that includes the VP of Google.com and Red Sox pitcher Curt Shilling, picked our idea. So now I am asking for your help so we can win the contest and make our idea a reality. To help out you can go to www.youbethevc.com and vote for us.

Here are the instructions:
1. Go to www.youbethevc.com
2. Register to vote by clicking Join and creating a profile.
3. Click on the finalists tab and select us (tubestones.com/BiggieWigg)
4. Watch our video to learn more about our idea and Vote! (you don't have to watch the video to vote)
5. Vote by filling in all five stars on our icon. You will know you have voted when all five stars are green! That's it.
There are 20 finalists and the three finalists that receive the most votes will be funded by Bang Ventures and get the opportunity to launch a company and make their idea a reality.

For more information on our idea and to meet my team, you can visit our blog – www.tubestones.wordpress.com

To learn more about the contest watch this you tube video - http://www.youtube.com/watch?v=DHJJMYVpUHw

If you have any questions or comments feel free to drop me a line or give me a call.

Thanks in advance for your help!!! Also, please feel free to forward this email to anyone you think would take a moment and help us out by voting.

Best Regards,


Sarah Sloane

Current Location: Boston, MA
Current Mood:
accomplished

Leave a comment
Jan. 27th, 2008 07:47 pm Winding down the weekend

I haven't been blogging here in year and a half lol. I like to come here randomly coz noone on myspace can see what I am writing. Its a bit intrusive over there. I am in pain b/c my jaw hurts. The whole jaw and its giving me headaches and neckaches too. I cannot go to the dentist until I get my taxes done. I can't get my taxes done until the next time I get paid. That will be feb 8th. Maybe I can make an appt at H&R Block on the sat after that. Then I'll get my state taxes in about 5 business days after. So if I can stick it out for 3 wks I can go to the dentist. It kills. I just took like 8 motrin literally. Its still kicking in. If I could suck a cock for some percs until I can get to the dentist I would but I can't even do that lol. I'm just kidding really. I know this sounds so whiny bitch but I know what long term pain feels like and I really have to scheme here. I've had my jaw hurt like this before. It hurt for an entire summer and I went to the dentist like once a week that summer. By then the geniouses at the dentist office realized it was not only that most of my teeth needed fillings but my wisdom teeth needed to come out. Bastards lol. I don't have any credit cards b/c I closed them all to pay them off. I have no nest egg and so I just have to wait. Maybe I could ask my mother for some cash to get to the dentist and pay her back next pay period. Well anyways to happier times...

I've had this thing for this rockstar for about 4 1/2 years now. Jeordie White. Hes so hot. He used to be in Marilyn Manson, then quit the band almost 6 yrs ago, joined one band, then they went on hiatus, he joined another, then the lead singer announced in the paper (not to his face) he was fired, in the meantime released a CD w/ another group of guys and then rejoined Manson earlier this month. I know that was one big run-on sentence. At first I was really apprehensive to hear he was back w/ Manson. He grew so much while he was outta the band and I figured it was a step back. But now i'm not so sure if its so bad. I love him no matter what. I went to see them last night at the Orpheum in Boston. They were great. He was great. He looked so cute and he played so well. He seemed happy, he was jumping around and dancing/thrashing around the stage. He seemed like he still belonged. Manson didn't seem to act as jackassy/look at me(well loosely speaking haha. after all he did burn a bible!) They opened w/ him coming out wearing a long black wig and this amish looking hat he likes to wear. eventually he took those both off so he could really rock out. and they played so well I was really impressed. Hmm...if you can catch manson on this show you really should coz they are good.

I bought an Ewok stuffed animal at Disney World last year and after a while I said to myself that if I ever get to meet Jeordie i'd give it to him. Well just in case I brought him w/ me but I didn't get to meet Jeordie so he came back home w/ me, w/ beer spilled all over him and his frock all crooked and all! I even wrote in sharpie for Jeordie across his chest! Well maybe someday i'll get to meet him...oh the many obscene things I could put here but for the sake of not sounding like a Twiggy/Jeordie fangirl i'm going to stop;) Everything about him is just so cute. I can't help it;)

I'm hoping if I become more disciplined i'll come here more often and write. It always makes me feel better about things to come here and just say whatever and noone will see. Now i'm going to enjoy the rest of my sunday night to wind down and start my week again. I'm going to go to work this next week and kick ass!! If I say it i'll believe it! Go me!!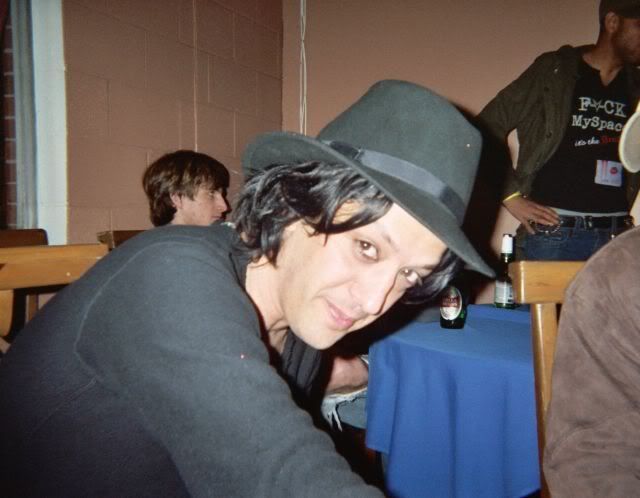 Current Location: in bedroom
Current Mood:
sore
Current Music: none, just figure skating on tv.


2 comments - Leave a comment
May. 14th, 2006 07:35 pm Help this guy get laid!

http://www.avirginsplea.com/

Go here and spread the word. The poor bastard. Had a real douche for a fiancee!

Current Location: Cape Cod, MA
Current Mood:
depressed
Current Music: Rollingstones Live The Garden 01/15/06

Leave a comment
May. 5th, 2006 04:54 am Melancholieia - Independent Band

I'm trying to spread the word about a really good independent band on the westside: in Cali. And I usually don't listen to bands on myspace but this band is different. Their name is Melancholieia (yes its spelled like that). Check em out. They're pretty good:

http://www.myspace.com/melancholieia

This is a link to their direct website also:

http://www.cdbaby.com/cd/melancholieia

Current Location: Cape Fear, MA
Current Mood:
tired
Current Music: Early Today totally lame

Leave a comment
Apr. 24th, 2006 06:58 pm Survey, I'm a total survey whore:)

001. What is the best way to get over someone?
cry and cry and then just stay away from him then you'll get over him faster.

002. What makeup do you wear on a daily basis?
none. I hate it.

003. Is your AIM away message on?
No I just took it off coz my cous' and a friend is on. and not responding lol.

004. If you could eat one meal for the rest of your life, what would it be? chinese or something italian or mexican.

005. What curse word do you use the most?
fuck, cocksucker

006. Do you own an ipod?
an old broken one.

007. Who on your Myspace " top 8 " do you talk to the most?
monica

008. What time is your alarm clock set for?
8:00 am but I don't really need it until I go back to work

009. Have you ever bid for something on ebay?
yes

010. Do you wear flip-flops even when its cold outside?
no

011. Where do you buy your groceries from?
Stop n Shop and Shaws

012. Would you rather take the picture or be in the picture?
Take them

013. What was the last movie you watched?
Beverly hills cop this weekend.

014. Do any of your friends have children?
Yeah

015. If you won the lottery, whats the first thing you would buy?
a house for me and my mom and sister.

016. Has anyone ever called you lazy?
yes.

017. Do you ever take medication to help you fall asleep faster?
yes

018. What CD is currently in your CD player?
Tool. can't say which one.

019. Do you prefer regular or chocolate milk?
Regular

020. Has anyone told you a secret this week?
nope

021. When was the last time someone hit on you?
a month ago

022. What did you have for dinner?
polly-o string cheese and grapes haha.

023. What is your biggest fear?
ending up alone

024. What color is your car?
turquoise

025. Can you whistle?
Yes

026. How many first cousins do you have? too many to count. At least 30.

027. Do you make your own jewelry?
nope

028. Have you ever participated in a protest?
nope

030. What is your favorite ride at an amusement park?
the one where you go around in a circle and the thing you sit in looks like a teacup and that spins too. Is it a tilt a whirl. Soo much fun. I make my friends go on it 80 times haha.

031. What is something you must do everyday?
eat

032. Have you ever dated one of your best friends?
No

033. What area code are you in right now?
xxx

034. Did you watch cartoons as a child?
Smurfs all the way and gummy bears, Punky Brewster and Alf cartoons.:)

035. How big is your local mall?
average I guess. not too big.

036. What is your job title?
TeleService Rep.

037. What do you miss most?
friends, old friends, family that live far away, followin fave bands around:(

038. Would you ever sky dive?
Hell no!

039. What are you allergic to?
nothing just seasonal allergies.

040. What is your biggest regret?
nothing.

041. Have you ever had Jungle Juice?
umm is that a drink? No.

042. When was the last time you laughed so hard your sides hurt?
maybe yesterday watching a video of A Perfect Circle fucking around onstage and trashing the backstage. Hilarious.

043. What movies do you know every line to?
Waynes world (grr), Tommy Boy, Vacation, European Vacation

044. Do you own any band t-shirts?
I have a drawer full of them...mostly Smashing pumpkins

045. What is your favorite candle scent?
?? anything but cinnamon.

046. How many aunts and uncles do you have?
at least 20

047. When was your last plane ride?
2004 august when I went to Toronto to see friends and Red Sox:)

048. Do you crack your knuckles?
never

049. How many chairs are at your dining room table?
5

050. What is your favorite salad dressing?
Bleu Cheese

051. Do you read for fun?
nope I hate to read sorry to say.

052. Can you speak any languages other than English?
very broken awful french haha.

053. Where is your cell phone?
nowhere I don't have one.

054. Do you do your own dishes?
yes

055. What color is your bedroom painted?
white

056. Are your parents divorced?
no my mom's a widow. Dad died about 5 yrs ago.

057. Have you ever cried in public?
yes...I don't hide my feelings anymore.

058. Have you ever been on a camping trip?
yeah.

059. Which do you make Love or War?
love

060. Are you always trying to learn new things?
no...I fear change soo bad.

061. What messenger programs do you have?
AIM, MSN, Yahoo, hardly go on them.

062. Do you shower on a daily basis?
mostly.

063. Are you currently wanting any piercings or tattoos?
yes. I want an APC and a Smashing Pumpkins tatt. Where and which symbol or whatever no clue yet.

064. Do you believe that the guy should pay on the first date?
no...it would be nice though hehe.

065. Can you skip rocks?
no

067. Have you ever been to Jamaica?
nope

068. What do you snack on in the movies?
Popcorn.

069. Who was your favorite teacher?
Prof Cox in College, My first grade teacher Mrs. Morin and my band directer UT or Uncle Tony or Mr Stevens hehe. I also liked my second and third grade teachers Mrs Portz and Mrs Park. Nice Ladies. Oh and my 5th grade science teacher Mr Machado was cool beans. Can't remember any others in hs.

070. Have you ever dated someone out of your race?
i've dated the UN haha.

071. What is the weather like?
cloudy raw and cold

072. Would you ever date someone covered in tattoos?
yeah unless they were on his face coz thats just stupid. I saw a dude at the NIN show last november w/ a big tatt on his forehead. STUPID!!!!!

073. Do you have an online journal?
yep

074. Did you ever play Capture the Flag in school?
don't think so but once I played flag football and twisted my ankle in a hole and fell and the sub yelled at me coz she thought I was tackling. haha. then I was like I twisted my ankle and she was cool about it. She was cool. We used to laugh at her last name though coz it was Ms Dunnit and that sounds dirty when you're a fifth grader just learning sex ed hahaha.

075. What was your favorite class in high school?
band.

076. Do you sleep on your side, tummy, or back?
side/back

077. What personality trait is a must have in the preffered sex?
sense of humor (dry but any will do) and he has to be somewhat sensitive and nice.

079. When was the last time you slept on the floor?
???

080. What is your favorite alcoholic drink?
Light beer, cheap wine.

081. If you were born the opposite sex, what would your name have been?
Colin...close to Colleen but male hehe.

082. Do you like your living arrangement?
yes. my mom, sister, and 2 cats.

083. Has anyone ever called you spoiled?
yes

084. What is your mother and father's hometowns?
Brockton, MA and Barnstable, MA

085. Did you ever go to the same school as your parents?
my dad's but then it wasn't in the same bldg.

086. How many hours of sleep do you need to function?
at least 4 or 5

087. How much is gas where you live right now?
too much. at least 3.00

088. What was the last thing to scare you?
???

089. Do you own a Playstation?
no way.

090. How many times have you brushed your teeth today?
Once soo far.

092. What album did you buy last?
??? I can't remember.

093. How many pairs of shoes do you own?
?? 8 million!

094. Are your days full and fast-paced?
not lately.

095. Did you ever get in trouble for talking in class?
not very often

096. Is there carpet, wood or tile in the room you're currently in?
wood

097. Were you a " planned " child?
my sister is 9 yrs older than me. my brother is 8. what do you think?

098. What is your mom's name?
Denise

099. What is your dad's name?
Chuck

100. How old will you be turning on your next birthday?
29!! UGG.

Current Location: Ghana
Current Mood:
apathetic
Current Music: Jeopardy

Leave a comment
Apr. 24th, 2006 12:33 am Red Sox Related

New Red Sox closer Jonathan Papelbon won, er, I think, a bet with Kevin Youkilis (Sox 3rd baseman) that said if he could start the year w/ 10 scoreless innings he'd get a mohawk. Well he did the 10 scoreless innings but who really won here: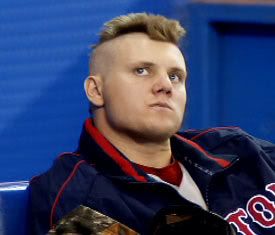 hehe poor bastard. The back is soo much better coz its zig zaggy but I couldn't find a pic. Too much!
Current Location: Chile
Current Mood:
lethargic
Current Music: Smashing Pumpkins live

Leave a comment